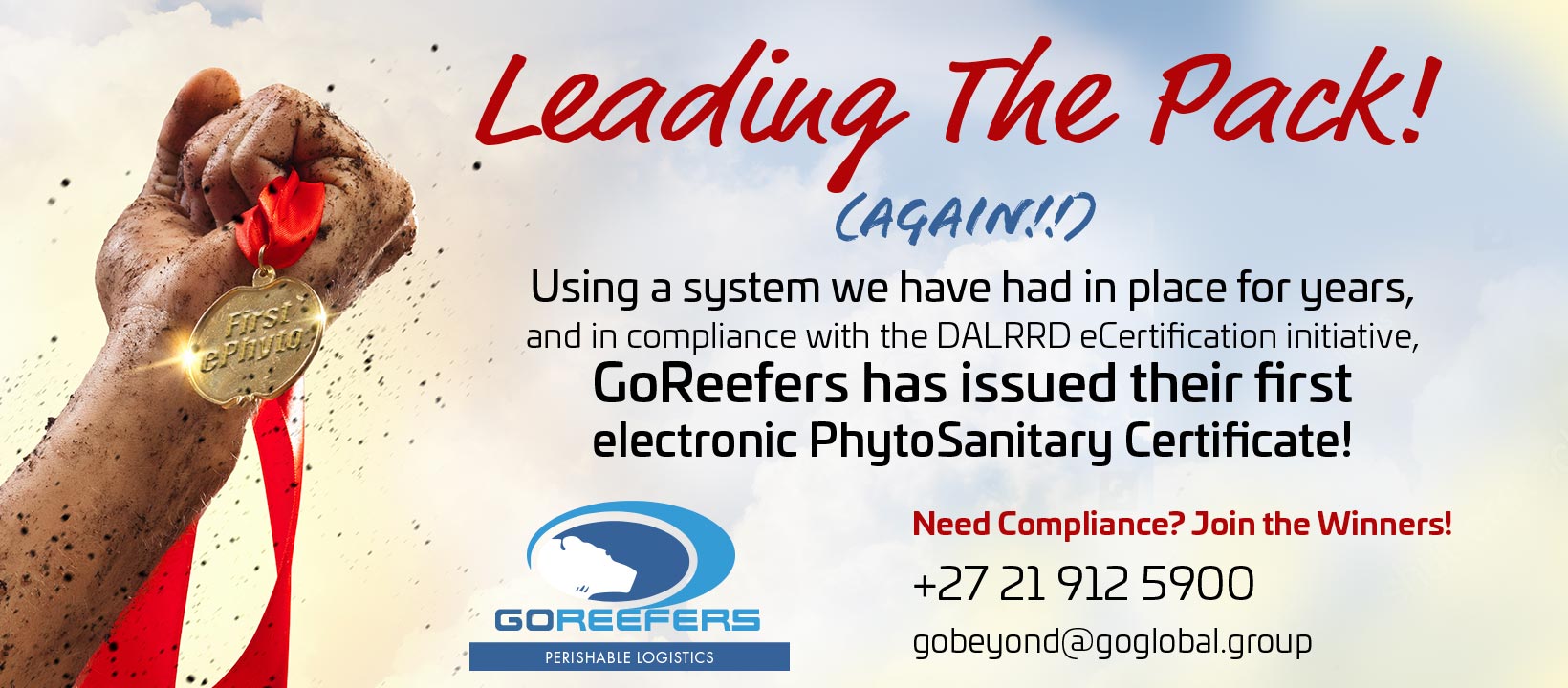 In compliance with the DALRRD eCertification initiative, GoReefers has issued their first electronic PhytoSanitary Certificate!
How Our Software and its Built-in eCert helps You
Well, to put it simply, your exports cannot leave the shore without an e-certificate!
Exporters that are exporting any and all plant based products (including wood) to any market requiring a phytosanitary certificate (Phyto), must request a Phyto via the E-cert platform.

Failure to comply will result in Phyto's not being issued, which means your cargo cannot be exported.

Failure to use the platform correctly, meaning capturing and recapturing garbage data will lead to DALRRD dealing out fines.
Other than that:
Reduce the manual, slow and error-prone processes relating to producing the export documentation required by the NPPO.

Makes it easier to enforce standards and regulations

Remove unnecessary delays in the logistics chain.
More Information:
What Is eCert And Why Do We Need It?
eCertification is an initiative that is being driven by the Department of Agriculture Land Reform and Rural Development (DALRRD). It is governed by bilateral agreements across countries and concerns the import/ export of all plant products.

The custodians of these agreements are the National Plant Protection Organizations (NPPO) in each country. There are numerous official documents that are generated along the value chain that validate that a stakeholder in the chain has followed all the rules of export. To put it in the GoReefers context, this is predominantly what the Clearing and Forwarding department handles on a daily basis.
The perishables industry (and many others) are notoriously known for being manual, slow and error prone when it comes to producing said export documentation required by the NPPO. The latter manual MO means that it is extremely difficult to enforce standards, there are unnecessary delays in the logistical chain and leaves it extremely open to illegal activities.
Therefore, in order to counter the negative issues mentioned above, the DALRRD is introducing the process of electronic certification. This means that all the institutions involved in the process of certifying Plant Products for export have to access this new platform and ensure all documentation is generated from that platform.
This is an issue because of the short timeframe within which they want to introduce it. This in conjunction with the fact that the majority of the commodities being affected never needed to follow phytosanitary rules to this extent. Additionally, the department doesn't have all the resources to handle this massive change. Finally, in order to have a system platform of this nature working optimally, it requires harmonized codes for e.g. commodities, varieties, loading points, production unit codes, inspection registrations and many more – which currently do not exist, or are only partially available.
As GoGlobal, we have been at the forefront of trying to shape this development to ensure it fits the practicalities on the ground. Our system has also already been developed to cater for what the department has done thus far.
[wpdevart_countdown text_for_day="Days" text_for_hour="Hours" text_for_minut="Minutes" text_for_second="Seconds" countdown_end_type="date" hide_on_mobile="show" end_date="01-04-2020 00:00" start_time="1584085509" end_time="0,1,1" action_end_time="hide" content_position="center" top_ditance="10" bottom_distance="10" ][/wpdevart_countdown]